Create your new blockchain
Now that you've created an account and established your business organization, let's go ahead and build out your first blockchain network.
Configure your Consortium
Visit https://console.kaleido.io and enter your organizational email + password to login.
Click the Get Started button in the middle of the page.
Provide a name for your consortium (i.e. business network) and optionally include a mission.
Choose a cloud provider and underlying region to serve as the home region for your network.  This is where all runtime resources will be hosted.  The choices are AWS US East, AWS EU Central, AWS APAC Northeast, AWS APAC Southeast and Microsoft Azure US West.
Click Next.  Note that multi-region consortium are not available on the Starter Plan.  If you wish to enable multi-region capabilities, follow the link in the console to upgrade your account.  Click Finish to finalize your consortium.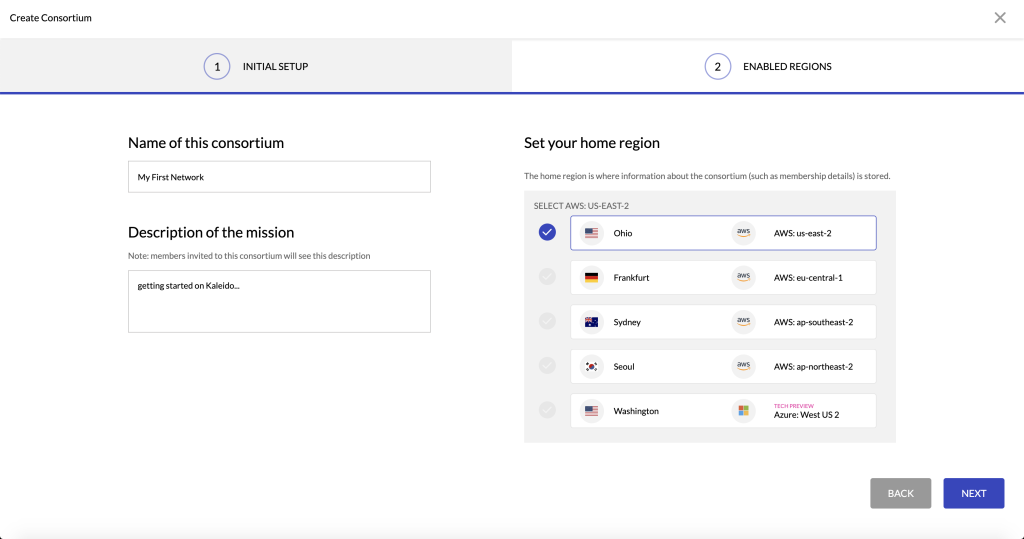 At this point your consortium is simply a namespace with an underlying home region, a name and your Kaleido organization existing as the sole membership.
Click the Setup Environment button to create some blockchain resources and bring your network to life.  An environment in Kaleido is an isolated domain with nodes, services and security credentials confined solely to it.  Each environment is its own unique blockchain.
Provide a name for your environment (e.g. Development) and click Next.  Note that the Deployment Region is automatically inherited from your consortium configuration.

Lastly, choose the protocol settings for your environment.  You can choose between three node clients - Geth, Quorum and Hyperledger Besu - and their supported consensus algorithms.

Geth is the hardened Go implementation of the core Ethereum node.  Compatible with clique PoA consensus.

Quorum is a fork of Geth offering support for private transactions through its "constellation" module.  Compatible with Raft and Istanbul BFT.

Hyperledger Besu is a modular Java-based client designed specifically for enterprise requirements.  Compatible with clique PoA and Istanbul BFT.

You can follow the link in the console to learn more about the various consensus algorithms.  For a quick start experience, we recommend a simple Geth + PoA configuration.

Click Finish
Add a Node to your Environment
Now that the environment has been created, you can go ahead and add a blockchain node.  A node will allow you to deploy smart contracts and perform meaningful chain-layer interactions.
Click the + ADD dropdown in the top right of your screen and select New Node.  Alternatively you can click the Add Node button at the bottom of the page.
Supply a name for the node (e.g. node 1) and click Next
Click Next to skip the cloud integrations panel.  These are unavailable on the Starter Plan.  You may use any of the Upgrade buttons to manage your subscription.
Leave the default configurations of "Small" and "Signer" on the final panel.  Click Finish to deploy the node.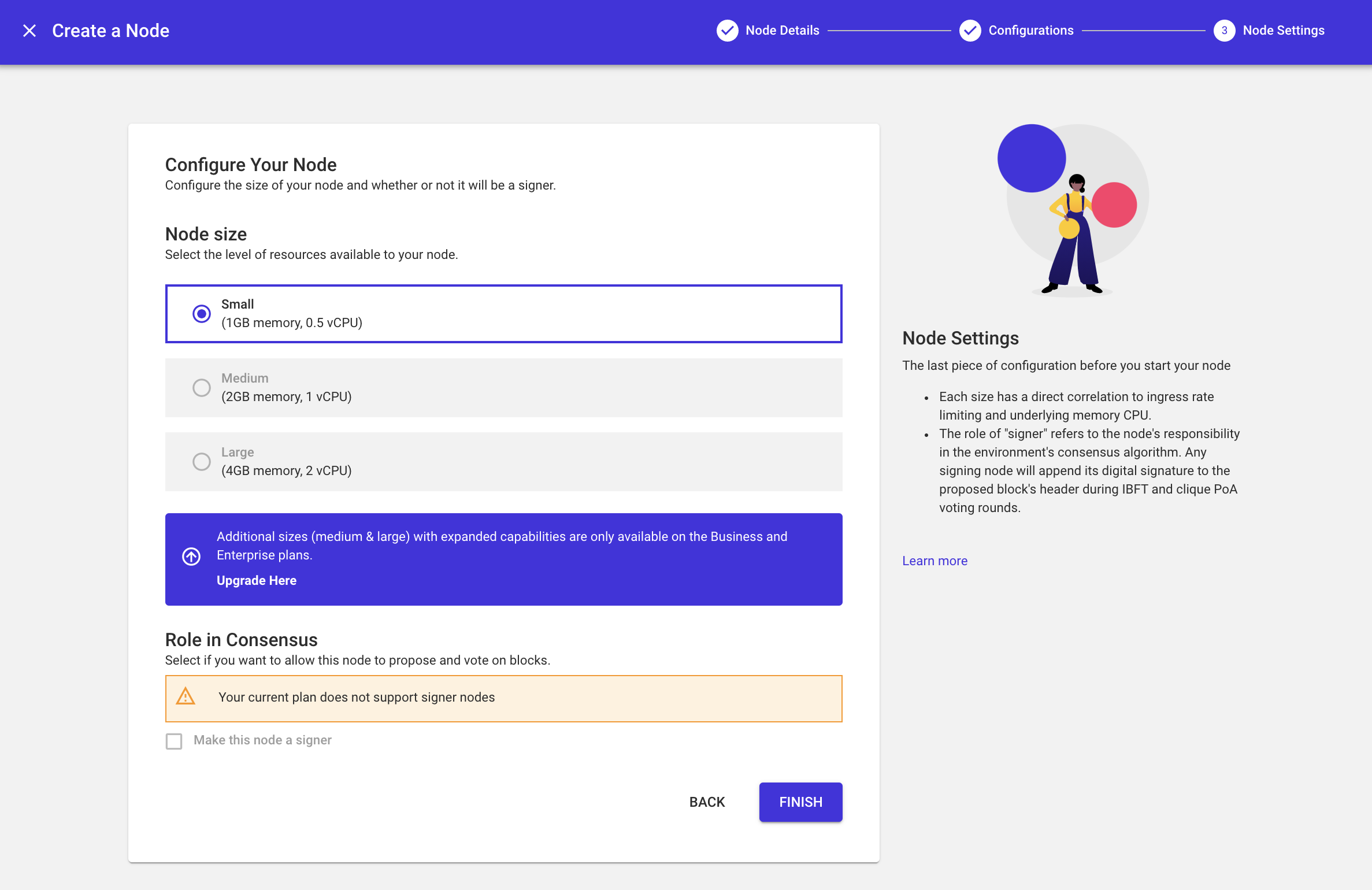 Wait for the node to initialize.  A green dot will appear next to the node along with a status of "Started" when the node is ready to connect.
The environment will contain, by default, a system monitor node and three utility services:  Block Explorer, Token Explorer and Ether Pool.